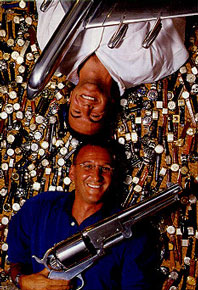 As you can see there has been a few changes. Don't worry, we are still the same owners offering the same great deals on one of the greatest vintage watch collections around.
You can now start looking for that special time piece to compliment your sense of style and class from any search criteria you can think of right here at Watch Commander.
You will find our new streamlined searching structure on the left. Choose from our wide selection of brands or narrow down your search by selecting a price, gender, or class.
Watch Commander is designed to serve the needs of all kinds of people, from the one time watch buyer to the collector, dealer, and all around enthusiast.
Although the focus is on vintage watches, new watches are available as well. We will actively seek to purchase watches and naturally, trades are welcome.
We hope to make your experiences pleasurable and we welcome your comments, and thank you for visiting our site.
Updates are frequent as we are constantly acquiring new product, so check back often, and if you don't see what you want, don't hesitate to ask us!
And by the way, thanks for stopping by to see us!