About Us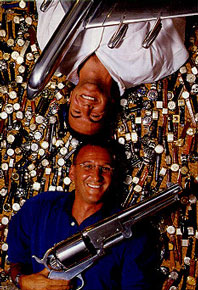 watchcommander.com has been an active website since August of 1997. It is owned by Massimo Barracca and Matthew Bain, who also own a retail watch store on Miami Beach since 1991. Mr. Bain and Mr. Barracca have a combined watch experience of over 30 years. Our specialty is in the buying and selling high grade vintage wristwatches from Patek Philippe, Rolex, Cartier etc...We also trade in modern wristwatches from pre-owned to never worn.
Massimo started collecting watches in the late 1970's, and he owned a retail store in Milan, Italy for over ten years. He is an authority on high-grade vintage wristwatches. He has collaborated on the following four watch books: "Ore D'oro One", "Ore D'oro Two" "Masterpiece of Time", and "Le Temps de Cartier". He has run a live auction house in Monte Carlo, and is consulted by the major watch auctions for his expertise on a continuous basis.
Matthew came from a family of watch collectors. His father was one of the largest American watch collectors in the 1980s. Matthew started collecting watches in 1985, and started Senzatempo in 1991, a vintage watch store located in Miami Beach. He is also an authority on vintage and modern wristwatches. He collaborated on book "The Movado History."
Both Massimo and Matthew are members of the NAWCC and IWJG.
Check out our press gallery to find out more.